News
Container transportation need special locks are fixed
( DATE: 2013/8/8 HITS: 2040 )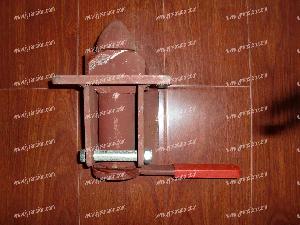 Container transport has its own advantages, such as container has enough strength can be repeated use; Container because of enclosure protection, can undertake rapid loading and unloading, will facilitate the transfer of the whole case goods; Container volume is large, large amount of loading; Can be stacked province space.

Container is very big, so the container at the time of transport without is container locks. Container lock is one of the most used in the container fittings, a container because of the space is larger, the transport of goods in general are several tons and tons of, in order to avoid the container or slide off side, in the container between car body and fixed with special locks. According to the ministry of communications of the People's Republic of China "road transport of goods and yard management regulations" (2005) and the container trucking rules (1995) no. 1283 of the regulations, to the vehicles, engaged in container transportation demands turn lock device equipped with fixed container.
There are many types of container lock and car body connection, have a plenty of directly welded on car body, locks can only rotate not vertical movement, such as stationary; Some turn lock by fixed bracket and body connection, not only can spin locks and longitudinal extension, need not when locks can be reduced below the bearing surface, to apply different type units, such as lift; And turn lock is hinged on the vehicle or make it can be moved, so to tighten position can be adjusted, thus greatly improving the utilization of the vehicle; There is also a kind of plug in turn lock, lock shaft fixed parts like bolt into the enclosure, generally used with other types of turn lock.

When container lifting to vehicles carrying surface, make the container bottom hole Angle of a fall in the installation of the location of the lock, lock through the rotation of the handle and locks will be fixed at the corner of a specified position (usually 90 or 70 degrees), turn the lock in the locked state. For elevating turn lock, longitudinal push handle, can make the locks is raised, to the container feet a lumen, Angle of rotation to the regulation again make its locking container Angle. Some turn lock with tightening device, through tightening can make locks into tight Angle within the cavity of the bottom, in order to prevent the corner is raised, so make sure lock more safety and reliable.